Nikon
CoolPix 775
Tutorial
Parts of the Camera
Switch On
Automatic Turn Off
Battery Management
Auto Mode
Zoom Buttons
Taking an Image
Monitor Control
Viewing Stored Images
Overiding Auto Settings
Scene Modes
Focus Modes/Self Timer
Flash Modes
Movie Mode
Playback Mode
Transferring Images

Image Sizes
Image Quality
Size/Quality Decision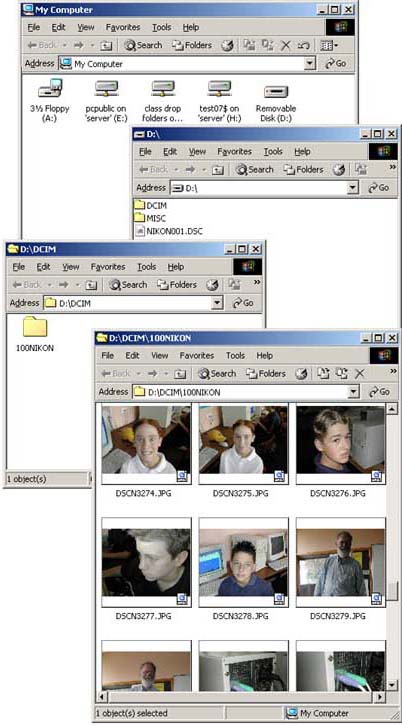 When connected to a computer* via its USB cable, the CoolPix 775 appears as a removable disk drive. To access images stored in the camera:
Open My Computer/Removable Drive D/DCIM/100NIKON
Choose "Thumbnails" from the "View" menu
Locate the required images and move them to your folder.
Turn off the camera and disconnect the USB lead.
Note: Do not attempt to transfer images if the camera's battery recharge indicator

is showing. The transfer process may not complete and your computer's file system may become corrupted.
*Machines running Windows 2000, Windows XP or MacOS 9.2 or MacOS X are required.