Nikon
CoolPix 775
Tutorial
Parts of the Camera
Switch On
Automatic Turn Off
Battery Management
Auto Mode
Zoom Buttons
Taking an Image
Monitor Control
Viewing Stored Images
Over-riding Auto
Scene Modes
Focus Modes/Self Timer
Flash Modes
Movie Mode
Playback Mode
Transferring Images

Image Sizes
Image Quality
Size/Quality Decision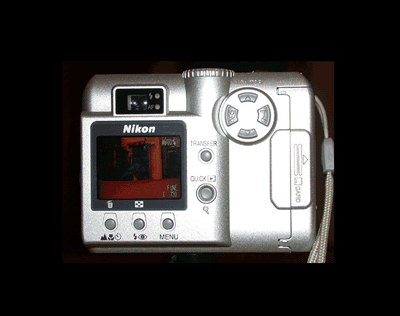 While in image capture mode, press the Up Arrow of the Multiselector button group to control the monitor.
The first press hides the data
A second press turns the monitor off to save battery power. Note: the camera remains on and images can still be taken via the view finder. Use this mode if you want to increase the number of images that can be taken before the battery's charge is drained.
A third press turns the monitor on again.